My first book review!
And of course, it's an art book by one of my favorite artists, Loish. In the olden days, when I was an avid DeviantArt fanatic, I was hugely into Loish's work, and now that she has a book (two books now) out for sale I had to grab it.
The unveiling: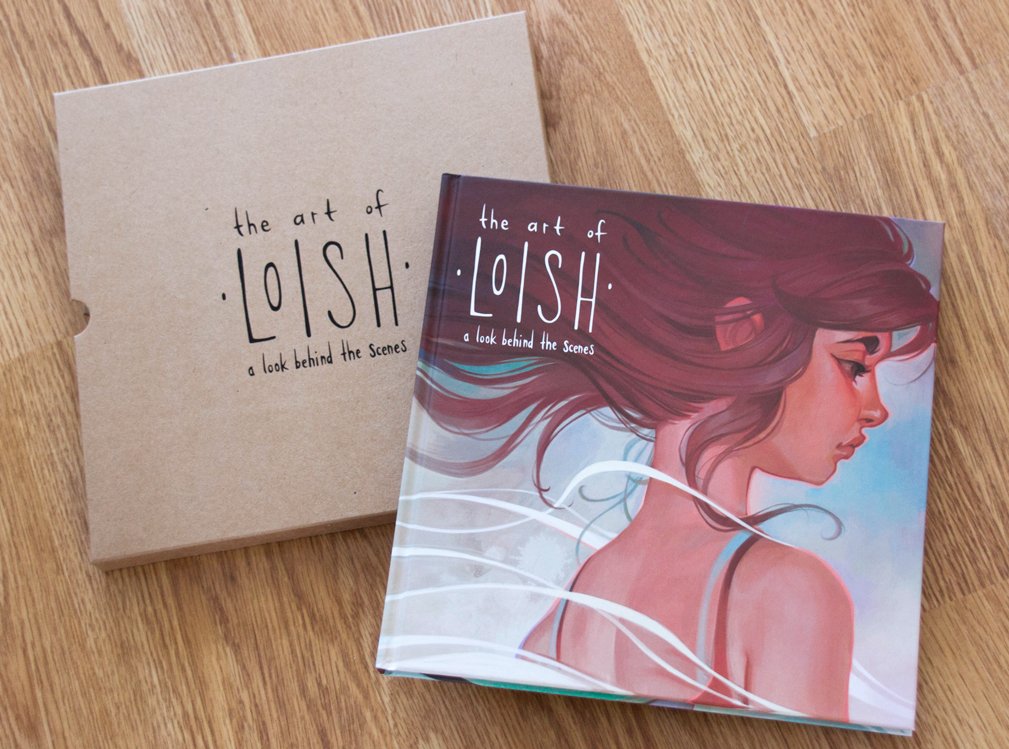 The packaging on this book is very sleek, and eye-catching to start. You can tell she's got some serious design skills as well as artistic talent with that poppin' cover.
*nerding out*
Loish's book is both informative, and personal. Her introduction page shares anecdotes from her childhood, and how she grew as a person.
Often as a creator, you are very much stuck in the 'now' aspect of your life. We are all incredibly focused on how we wish we could be better, and I know I've thought, "Wow, I'm never going to be as good as _____". But her book is incredibly inspiring because she details how she got her start. She's got crude scribbles, and shaky oekaki black and white drawings in here. Stuff that looking at now, I'm sure she is embarrassed about. But I think it is so important that, instead of just a book showcasing her best works, she is highlighting the ground-work that lead to this successful art career now.
Each page is a different period of her life, focusing on transition points and different techniques that she accomplished. She highlights her own artistic inspirations, along with discovering different media outlets, and drawing tools that shaped her artistic style to be what it is today. She even re-makes an old drawing from years ago, and points out why the old version isn't working, and what she improved upon. This is a great tool for someone like me, who often realizes a drawing isn't working, but I tend to flounder about with finding out exactly why it looks funky.
Loish gets up close and personal by showing her workspace, and her day to day routine as well. This girl is constantly working. Sun up, to sun down she's got a tablet pen in hand. She's got page upon page of half finished drawings, detailed sketches, and sketches that are barely there at all. I find myself going through droughts. There are days where I don't want to do anything. Can't muster the energy to draw. Or when I can, I don't have a single spark of inspiration. But Loish doesn't have that. She powers through it all.
I try to work conventional eight-hour days in a structured, discipline way. I force myself to do this to maintain stability in my work, and in my life. If I didn't do this, I would quickly spiral into a life of binge-watching TV series and eating ice cream for dinner. I know that sounds great, but if you depend entirely on self-discipline to get your work done, it is actually a nightmare! -Loish
I had only known Loish from her old DeviantArt days, but she actually worked on a lot of other projects too! She shows her character concept art, environmental art, storyboards for commercials and videogames, as well as some stills from animations that she has worked on. It was very interesting to see how she developed from just drawing Disney princesses as a kid to doing all of this other cool stuff too! (It gives me confidence as I still draw Disney princesses)
Finally, what is probably my favorite part about this book, is that she gives a step by step guide on her process. She describes her tools (Wacom Cintique 24HD & the largest Photoshop document possible to maximize details), and explains different layering, and color techniques that she uses. It's a really great tool for someone who is trying to transition from traditional media to a digital platform. Often I will see a painting, and think, "Okay…how did they do that?". And this book teaches you all about that.
Overall, I give this book 5 stars. No surprise there, since I already told you I was a Loish fan. But hey, don't take my word for it. If you want to see for yourself, and buy her book you can click the link down below.
https://www.amazon.com/Art-Loish-Look-Behind-Scenes/dp/190941428X